Great for GPs and patients
Klinik is an online triage system that has been developed to help GP practices manage patient flow. Our sophisticated digital triage software ensures patients are directed to the right point of care automatically. This means that healthcare services can use their resources more efficiently, allowing them to deliver better quality care at a lower cost.
Our medical triage solution supports GP practices as it:
Integrates seamlessly into existing healthcare processes.

Identifying primary health issues, recognising their urgency and directing patients to the right point of care.

Provides vital background information to practice staff so that healthcare professionals can begin proactively interacting with patients.
Klinik medically-validated AI triage allows patients to:
Contact their GP practice online whenever and wherever they need to.

Be directed to the correct point of care 24/7.

Receive priority treatment for the most urgent conditions.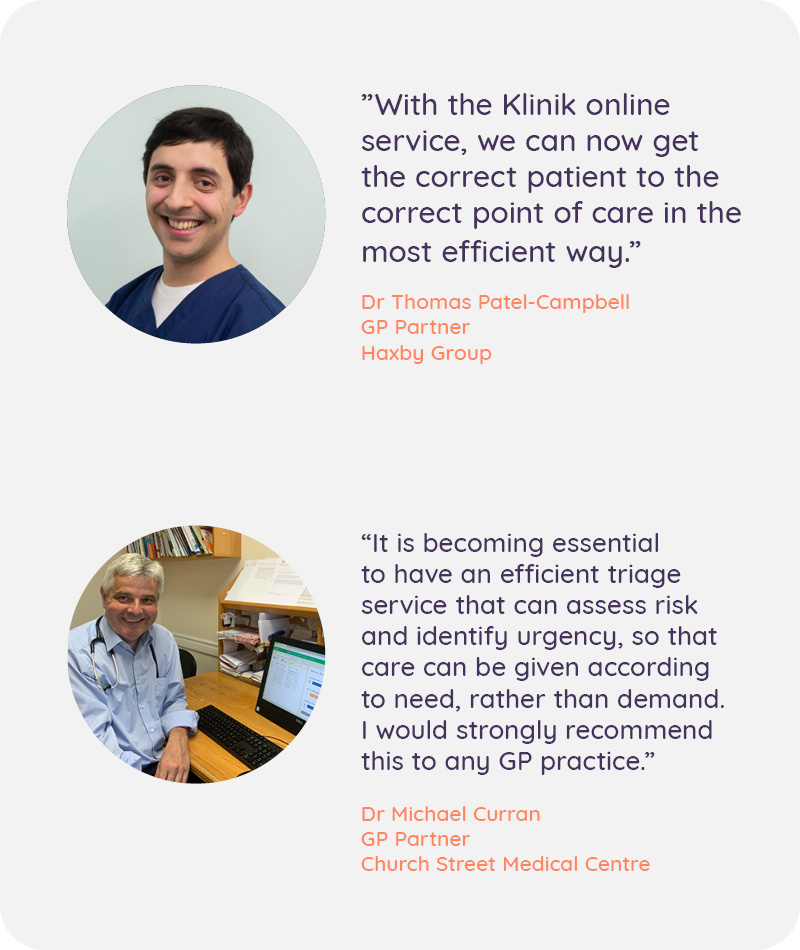 Why you should choose Klinik
If your GP practice is considering implementing a digital triage system, Klink offers a wide range of benefits, including:
More efficient use of resources

Reduced stress on frontline staff

Cuts call volumes

Improved patient experience

Supports high quality clinical care

Advanced AI triage

CE marked medical device

Reduced stress on frontline staff

By relieving some of the burden on frontline staff, the Klinik medical triage solution contributes to lower stress levels, greater job satisfaction and, ultimately, lower staff turnover.

• More efficient use of resources: The Klink medical triage solution streamlines access to healthcare for patients so you can reallocate resources to the most complex patients or those with greatest need.

Cuts c
all volumes
Klinik actively supports the channel shift to patients using online service. This frees up the phone lines for those who either do not have access or are unable to use online solutions.

Advanced AI triage
The Klinik Medical AI engine automatically recognises over 1000 symptoms and conditions, including mental health and complex paediatric conditions.

Reporting
Through live and historical dashboards, we present all inbound data; from frequent users to epidemiological information. This enables better resource planning and population health management.